PRESIDENT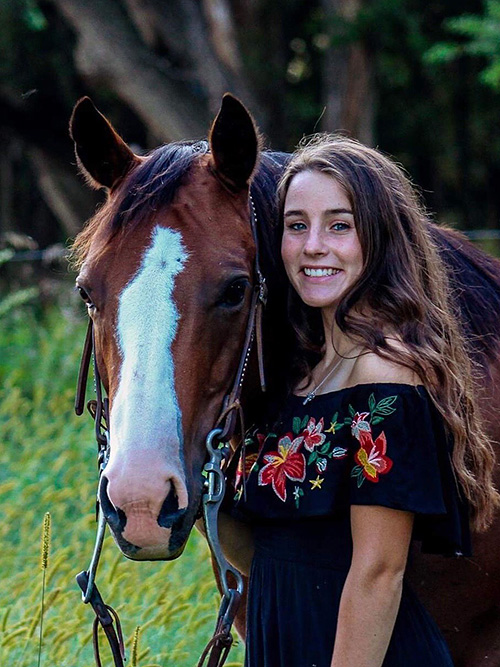 My name is Morgan Ritz, I currently live on our small family farm near Comstock, Nebraska. I have loved every minute growing up on our small farm; riding horses, doing field work and chores are a few activities that have made me who I am today. I am currently a senior at Ord Public School where I am a part of cross country, track, Student Council and senior class secretary, FFA treasurer, and a member of National Honor Society. I enjoy being involved in various activities, they have all grown my leadership and communication skills.

The most influential part of my life has been the impact of my reining community for nine years. I am involved in many activities, but my favorite has always been reining. There is no better way to learn responsibility, humility, and leadership than at a horse show. I have been given many opportunities through NRHA and my local CPRHA shows to grow in my leadership skills. I discovered I wanted to be a part of NRHyA when I saw youth older than me taking on NRHyA leadership roles and expressing their passion for reining. I realized a goal of mine was to become a role model for younger youth so they could experience the same things I have in NRHyA.

I have been blessed to be the 2019 NRHyA Historian. I enjoy representing our great youth association, educating youth about NRHyA and all the opportunities it gives young reiners. I had many people encourage me to be a part of NRHyA as much as possible. I also had people support me when I was disappointed or when my plans went astray. Looking back on my year as Historian, I realize I wouldn't have accomplished as much without reassurance from my friends and family. My hope is, I will be an individual who is encouraging and supportive for youth in the association so they can see the opportunities NRHyA has for them.

I would be honored to be your NRHyA president and thrilled to see the youth association grow with many new faces and goals as we welcome in the 2020 year with a new officer team.
VICE PRESIDENT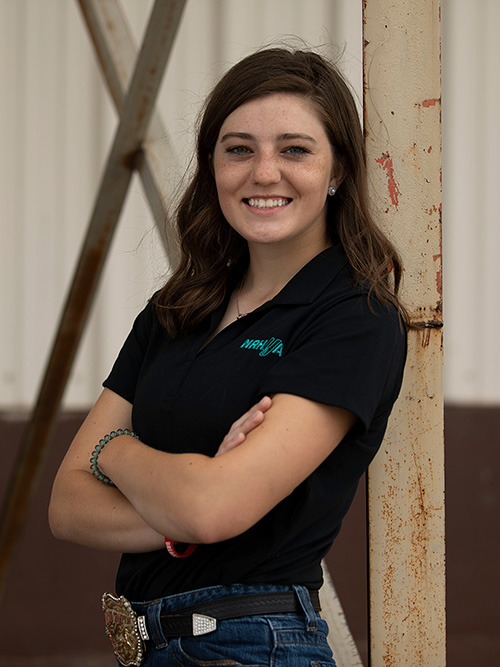 My name is Olivia Klug. I'm seventeen years old in live outside of Columbus, Nebraska on my family's farm. There we raise cattle, grow corn and soybeans, and have horses along with many other animals. I attend high school as a Junior at Scotus Central Catholic in Columbus. There I participate in musical, careers club, campus ministry, and National Honor Society. I am also active in multiple church, community, and 4-H groups.

Although I love participating in all of these activities, my favorite is riding horses. I have been showing horses for nine years and reining for the past six. I first became involved with NRHyA leadership roles in 2017 when I ran for delegate. I received the position and loved it. I ran for delegate again in 2018 and then decided to run for a 2019 NRHyA officer position.

Running for these positions are some of the best decisions I have made to this day. Throughout the years of me being involved in NRHyA I have met many new people who have become some of my biggest role models, supporters, and most of all, my closest friends. I have also been given many opportunities to learn lifelong skills, make unforgettable memories, and learn what the sport of reining is truly all about. However, none of this would have happened if it were not for NRHyA. NRHyA has made my reining experience incredible and I want every youth to have this same experience! I would love to serve as your 2020 NRHyA Vice President and am looking forward to the next year and being able to watch NRHyA grow and expand.
SECRETARY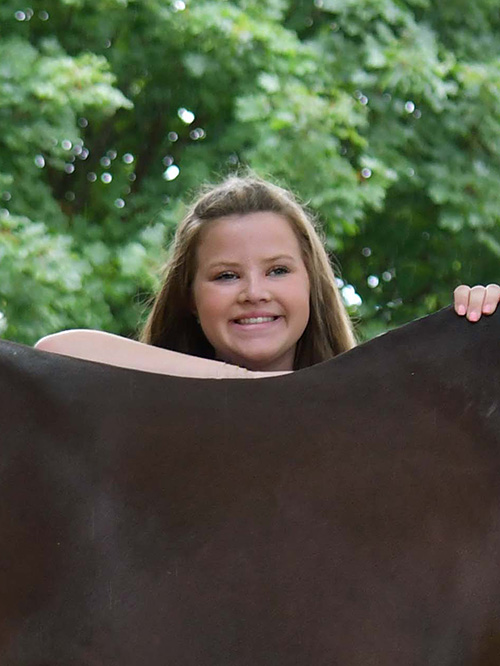 Hello! My name is Ava Welman and I am a 14 year old from River Falls, Wisconsin. I am currently in the eighth grade, attending River Falls Meyer Middle School. I have been an active member of the NRHA since the age of four and have been involved with reining horses all my life. Aside from my true passion for reining horses and the reining industry, I spend my free time playing in extra curricular activities, such as basketball. I would be honored to represent the association as the 2020 NRHyA secretary as I would love to meet new people as well as become more involved with what this amazing program has to offer, and with your vote, I plan to achieve more growth in this program as a whole. Thank you and remember when choosing your 2020 secretary, Slide a Vote for Ava Welman.
TREASURER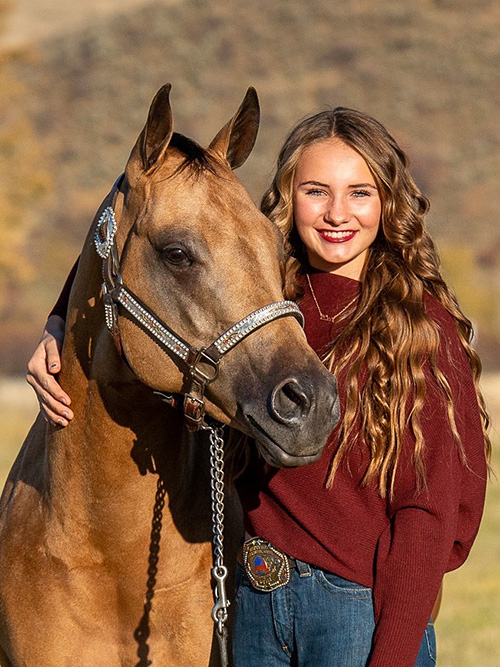 My name is Madison Wigen, I am a 2019 NRHyA delegate from Plain City, Utah. I am a freshman at Wahlquist Junior High School. In my free time I play basketball, spend time with friends and family, and ride my buckskin mare Gee Whiz Imma Dunit (also know as Phoenix). Horses have always been a huge factor in my life, and I can't think of a time in my life where it hasn't been something that I have a huge passion for. My whole family rides and both of my parents grew up showing horses. I want to run for 2020 NRHyA office because I want to get more involved with the NRHyA, meet new people, and form new friendships.
HISTORIAN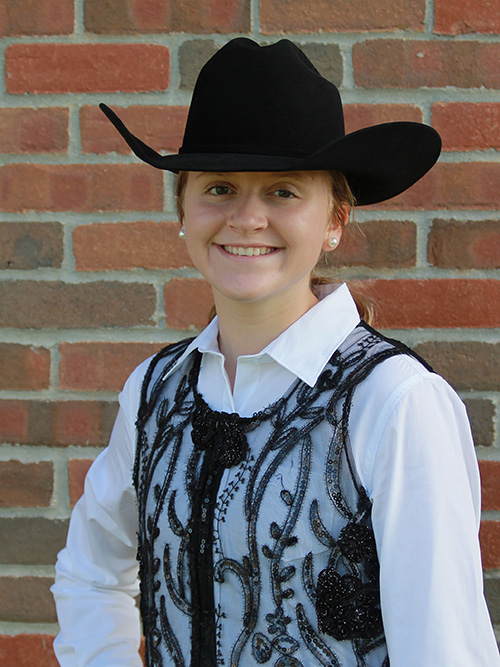 Hi, I am Haley Turner. I am 16 years old and I live on 20 acres just south of Columbus, Ohio. Along with my brother and sister and I live with our collection of dogs, cats, goats, chickens, and of course horses! I am a junior at Grove City High School, and have participated in our Marching Band, Cross Country team and Key Club, a community service club. I don't remember not showing horses, beginning with the traditional lead line classes and then 4-H. I followed my brother and sister to NRHA shows as long as I can remember and have actively been showing reiners myself for the past five years. Before it was my turn to show, I still looked forward to spending the weekend at shows. It meant a weekend of running around the showgrounds, usually with the other younger siblings. When it was my turn to show, I made even more friends across many states. It is these experiences that make me run for NRHyA Historian. I hope to continue to build more memories with great friends and give back to the organization that has been such an important part of my youth!